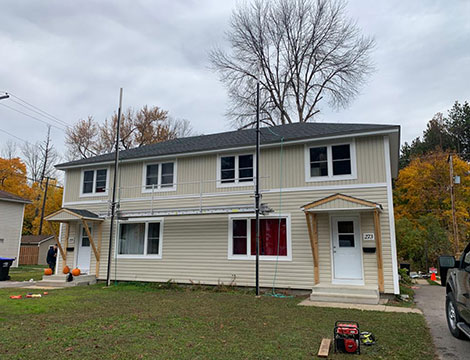 At Ontario Siding & Gutters, we understand the importance of high-quality siding for your home. That's why we specialize in vinyl siding installation services that are both durable and stylish. Our team of experienced professionals will work with you to find the perfect vinyl siding options for your home, ensuring that it not only looks great but also provides optimal protection against the elements.
Benefits of Vinyl Siding:
Low maintenance:
Vinyl siding is a popular choice for homeowners due to its low maintenance requirements. It doesn't require painting, staining, or sealing, and can be easily cleaned with some soap and water.
Energy efficiency:
Vinyl siding can also help improve your home's energy efficiency by reducing heat loss and air filtration. Insulated vinyl siding can help improve your home's energy efficiency by keeping your home cooler in the summer and warmer in the winter.
Durability:
Vinyl siding is designed to withstand harsh weather conditions, including high winds and heavy rain, making it a long-lasting option for your home's exterior.
Versatility:
Vinyl siding is available in a variety of colors, styles, and textures, making it a versatile option for any home. It can be made to mimic the look of other materials, such as wood or stone, while still retaining the benefits of vinyl.
Cost-effective:
Vinyl siding is one of the most affordable siding options on the market, making it an excellent choice for homeowners with a budget. It is also relatively easy to install, which can further reduce the overall cost of the project.
Our Vinyl Siding Installation Process:
Consultation:
We'll start with a free estimate to discuss your goals and preferences for your vinyl siding installation. Our siding experts will meet to discuss your needs and preferences and provide you with a free estimate for the project.
Customization:
We'll help you choose the right vinyl siding options for your home, including colors, styles, and textures.
Pre-Installation Inspection:
Our team will conduct a thorough inspection of your home's exterior to identify any areas that may need repairs or improvements before the siding installation.
Preparation:
We will remove any existing siding, repair any damaged areas, and install a moisture barrier to prevent water infiltration.
Installation:
Our team will handle every step of the installation process, ensuring that your vinyl siding is installed to perfection. Our experienced installers will carefully install the vinyl siding panels, ensuring they are properly aligned and secured to the wall. We will also install the necessary accessories, such as trim, soffit, and fascia.
Clean-up:
Once the installation is complete, we will thoroughly clean up the work area. We'll leave your property clean and tidy, with all debris removed from the job site.
Inspection:
Our team will conduct a final inspection to ensure the installation is up to our high standards and that you are satisfied with the result.
Contact us today to schedule a free consultation and estimate for your vinyl siding installation needs. We're proud to serve homeowners throughout Ontario with expert siding and gutter services.
keyboard_arrow_leftPrevious
Nextkeyboard_arrow_right