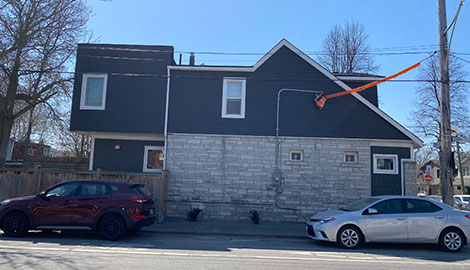 Choose aluminum for your home's exterior and build up curb appeal with a wide range of aluminum sidings available in different colors. Aluminum siding is engineered to shield your home from harsh outdoor elements and keeps it looking great for a long time. It comes in a vast array of colors from darker shades to lighter hues. All aluminum products can be color-coordinated for a more uniform and sophisticated look.
If you're in need of aluminum siding services, look no further than our team. We offer competitive pricing and excellent customer service, so you can be confident that you're getting the best value for your money. Contact us today to schedule a consultation and learn more about how we can help you with your aluminum siding needs.
Some reasons to opt for aluminum are:
A full range of siding for color coordination.
Withstands all weather, even hail and UV rays.
Controlled pliability for strength with resilience.
All products meet and exceed industry standards.
Highly durable material that can withstand harsh weather conditions
Aluminum requires very little maintenance to keep it looking its best.
Aluminum siding can help to insulate your home
Aluminum siding has several benefits, including:
Durability:
Aluminum siding is highly resistant to corrosion, rust, and weather damage. It can withstand harsh weather conditions such as extreme heat, cold, rain, and wind.
Low maintenance:
Unlike other siding materials, such as wood, aluminum siding requires very little maintenance. It does not need to be painted, stained, or sealed, and it is easy to clean with soap and water.
Cost-effective:
Aluminum siding is generally less expensive than other exterior materials, such as brick or stone. It is also easy to install, which can help reduce labor costs.
Energy efficiency:
Aluminum siding can help improve the energy efficiency of a home by providing insulation and reducing heat loss during the winter months.
Fire-resistant:
Aluminum siding is fire-resistant, which can help protect a home from fire damage.
Eco-friendly:
Aluminum is a recyclable material, so aluminum siding can be recycled and reused.
We offer a range of aluminum siding services, including:
Aluminum siding installation
Aluminum siding replacement
Aluminum siding is a popular choice for many homeowners and businesses due to its durability, low maintenance requirements, and attractive appearance. However, like any material, it can become damaged over time or require maintenance to keep it looking its best. That's where we come in. Our team of experienced professionals has the knowledge and skills to handle any aluminum siding project – new builds or replacement. Our team uses only the highest-quality materials and equipment to ensure that every project is completed to the highest standard. We take pride in our workmanship and attention to detail, and we always strive to exceed our client's expectations.
In conclusion, aluminum siding is an excellent choice for homeowners looking to improve their home's curb appeal while providing long-lasting protection against harsh outdoor elements. With a wide range of colors and styles available, homeowners can find the perfect aluminum siding to complement their home's aesthetic. Additionally, aluminum siding is highly durable, withstanding even hail and UV rays, and provides controlled pliability for strength with resilience. With all products meeting and exceeding industry standards, homeowners can trust in the quality and longevity of their aluminum siding. Choosing aluminum for your home's exterior is a wise investment that will pay off in the long run.
keyboard_arrow_leftPrevious
Nextkeyboard_arrow_right