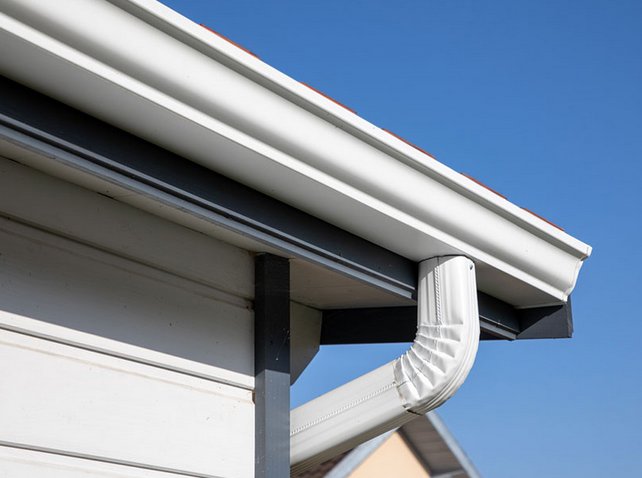 If you are looking for a professional and reliable gutter installation service in Toronto, then you have come to the right place. At Ontario Siding & Gutters, we are a team of contractors committed to delivering exceptional quality gutter installation in Toronto, ON. All our technicians are insured to take care of your gutters. We know how to get the job done right the first time.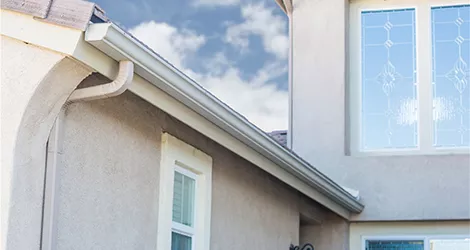 K-style (5 inches to 6 inches) Gutter Installation
Gutters are vital components that are designed to keep water away from your home. The mechanism manages the flow of water in a way so that it doesn't cause any harm to the integrity and foundation of your home. Ontario Siding & Gutters has been offering high quality gutter installation services in the Ontario region since the 1990s.
K-style gutter accounts for nearly 80% of the gutters installed today. Homeowners and contractors prefer this gutter option for its easy installation and durability. It is called "K-style" because of the shape it makes when looked at from a side profile.
Benefits of K-Style Gutters
Provides a seamless finish making it less prone to leaks
Can hold more water than a rounded style gutter
Offers a stylish appearance for the home's exterior
Less likely to bend or protrude when impacted by force
Offered in aluminum and in 5-inch or 6-inch sizes
Gutter hangers can be screwed directly to the fascia board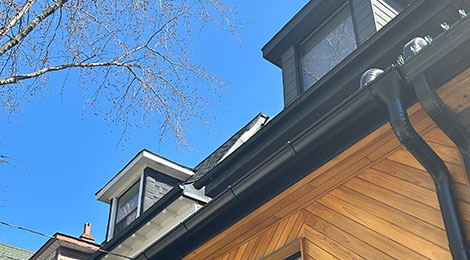 Half Round Gutters (6 inches)
Half round gutters look like you took a fully-enclosed pipe and cut it in half lengthwise. A "true" half-round gutter section has curled-top outer edges on both sides. Half-round gutters only come in the 6-inch size and came come in any color. Our half-round gutters are seamless and are rolled out on site.
Advantages of Half Round 6" Inch Gutters
Half-round gutters hold a few advantages over their K-style counterparts. The major difference is that the inner shape of half-round gutters is smoother than the angularly-formed K-style gutters. This smoothness reduces the likelihood of corrosion, since there are fewer areas where wetness can form.
In addition, their smooth surface allows waterborne debris to flow more freely instead of getting caught on rough edges or sides, which can lead to clogs over time. Given this fact, it's easy to see why half-round gutters are easier to clean than K-style gutters.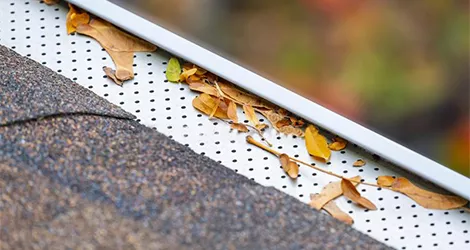 Leaf Guards
At Ontario Siding & Gutters, we have different styles of leaf guards you need. Our leaf guards combine the idea of leaf screens and gutter guard hoods. Rainwater flows down your roof and drains through the guards installed on the top of gutters. This gutter leaf guard has been tested to handle up to 28.4 inches of rainfall per hour. Upon request, we can supply gutter guards with specific colors to match your gutters and roof. We are your one stop shop for all gutter related needs.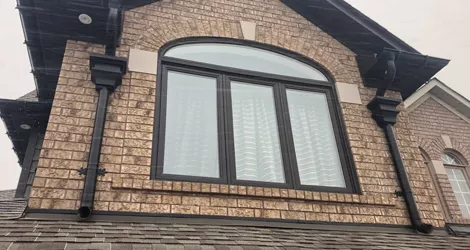 Decorative Boxes
Decorative Boxes are built-in gutter systems that are typically found on older, historical homes and buildings. The difference from aluminum gutters is that they are part of the actual roof's structure.
Because decorative boxes are wide they rarely get clogged or overflow. At Ontario Siding & Gutters, we offer decorative boxes that look modern and are durable. We offer decorative boxes in either aluminum or copper.
keyboard_arrow_leftPrevious
Nextkeyboard_arrow_right