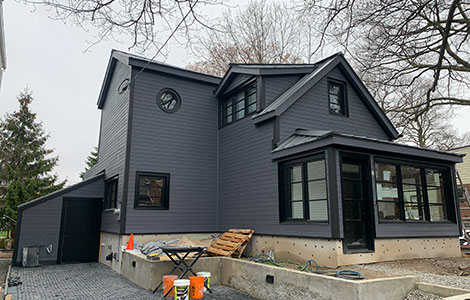 At Ontario Siding & Gutters, we are a leading full service gutter installation company that is proudly serving the residential clients with high quality siding in Guelph. We specialize at half round, seamless and 6-7 inch rain gutters.
With a team of expert vinyl siding contractors, we provide best-in-class siding & fascia installation to enhance the curb appeal of your property. No job is too big or too small for our highly trained and licensed gutter installers in Guelph. We are your one stop shop for:
Seamless Rain Gutter Installation
Half Round Metallic Gutters
Gutter Replacement
Gutter Cleaning & Maintenance
Vinyl, James Hardie, Maibec, & Shake Siding installation
Siding Installation & Maintenance
Soffit Installation
Fascia Installation & Maintenance
Metal Roofing
Prevent Water Damage with Gutters
Water leakage is one of the common reason that leads to damage inside and outside your home. By installing durable rain gutters, a homeowner can really prevent the risks of damage to a structure that is generally caused by overflowing gutters.
At Ontario Siding & Gutters, our experienced gutter contractors in Guelph are well versed with the right approach that should be followed to install gutters that don't crack or leak.
Unparalleled Siding Replacement
Since your home's exteriors are always exposed to harsh elements, even your newly built home can look weathered within a period of just a few months. To make it look new and beautiful again, we provide vinyl siding installation in Guelph that tends to reflect back the direct sunlight and other harsh weather conditions.
To start with, first of all, we'll perform a thorough inspection of your exterior structure to inspect the degree of damage caused by water leakage. After this, we will install a durable vinyl siding that matches your home style.
Why Choose Us?
Ontario Siding & Gutters provide superior gutter installation and siding services to Guelph residents. We install all types of gutters, no matter what material or style they are. We know that customers are our valuable assets and we try our very best to exceed their expectations. Please contact us today to schedule an appointment or request a free estimate.
WATCH VIDEO
Trusted Siding Installation Services in Ontario
WATCH VIDEO
Vinyl Siding Products in Ontario
I recently had Ontario Siding & Gutters install vinyl siding on my home. The team at Ontario Siding & Gutters was professional, courteous, and knowledgeable. They answered all of my questions and provided me with a detailed explanation of the vinyl siding installation process, which put me at ease. The vinyl siding they installed is top-notch quality and has transformed the look of my home. Not only is it durable and low-maintenance, but it has also helped to improve the energy efficiency of my home, which is a huge plus. Overall, I highly recommend Ontario Siding & Gutters for anyone looking to install vinyl siding on their home. They offer great value for their services and their attention to detail is second to none. Thank you, Ontario Siding & Gutters, for a job well done!
Professional and friendly sales team, respected my time and delivered an efficient, quality service.
They did a great job quoting + installing our new siding and were professional the whole way through. Highly recommend!
Cristian Gomes
2023-03-01
One of the most reliable contractors we've worked with. On time, professional and responsive. Would highly recommend.
Great job repairing my gutters. Quick and efficient.
Best siding company hands down! Alem is a gentleman and does excellent work on time and reasonably priced! Great family company and highly recommended!
Fusioncorp Developments Inc.
2023-02-16
Gutter replacement review—They did an amazing job from first contact. Unlike many other companies they were responsive and answered all my questions. They came out quickly to do the quote after I contacted them. The man doing the quote was polite and friendly and great to deal with. I received the quote quickly, and the person I emailed with was very helpful in terms of options, polite and responded very quickly to all my questions, but wasn't pushy at all. The work was done well and efficiently (replacement of gutters) and looks great. The workers were on time, completed the work on schedule and had some helpful suggestions on site. I'd definitely recommend this company.
New fascia, soffit and eaves. Job very well done, clean and impressive work
Derek Lockerbie
2022-08-30
We had our old aluminum siding replaced with vinyl siding and our gutters and downspouts replaced as well, From start to finish, it was a pleasure to work with Ed and the installers. The work was done promptly and thoroughly and the property was left clean. The siding installer, Debert was pleasant and proficient and both he and the gutter installer appeared to care as though they were working on their own homes. We would recommend Ontario Siding and Gutters without reservation. Polly and Ken
Your home's exterior plays a crucial role in its overall aesthetic appeal and structural integrity. Soffit and fascia, often overlooked...
keyboard_arrow_leftPrevious
Nextkeyboard_arrow_right