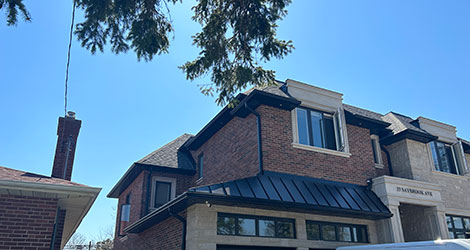 Do you want a durable and long lasting standing seam roofing or s-lock roofing for your home or office? If yes, your search ends here at Ontario Siding & Gutters. We are a full-service metal roofing company supplying high-quality metal roofs along with providing installation service in Toronto, Brampton, Mississauga and other nearby areas.
With the advancement in technology, we have a catalog of metal roofs manufactured using high quality material. To ensure a safe and reliable roof installation, our roofers utilize modern tools and equipment. Regular inspection and maintenance is the key to a long lasting roof structure and this is what we focus on.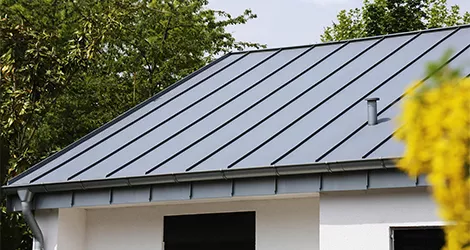 Standing Seam Roofing
Standing seam metal roofing is growing in popularity due to its superior weather-tight qualities, its sleek/modern look, and how long it's expected to last. It is defined as a concealed fastener metal panel system that features vertical legs and a broad, flat area between the two legs. It's also described as having raised seams, or vertical legs, that rise above the level of the panel's flat area. Standing seam systems can be used for either metal roofing, which is the most common, or metal walls.
The main idea to remember for standing seam systems is that the fastener is hidden, whether the panel is attached to the roof deck using a clip or is directly fastened to the decking material under the vertical leg using a fastener flange.
One of the most significant selling points of standing seam metal roofing is the variety of choices and options for customers. These choices stretch far beyond just the color of the panel to include the length, width, profile, shape, thickness, and more.
Being a locally owned and operated roofing company in Ontario, we have earned an industry reputation for installing best-in-class seamless metal roofs at affordable price. With our metal roof installation, we provide a cost-effective solution to replacing an old or worn-out roof structure. Our services include:
New Roof Installation
Re-Roofing
Standing Seam Metal
And More…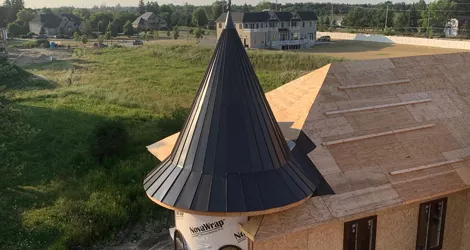 Turret/Cupola
At Ontario Siding & Gutters, we install custom cupola roofs in a wide variety of materials, colors and styles to suit your needs. Cupola roofs can be clad with pre-finished metal, copper, or other exterior cladding. Our cupolas will add beauty, character, and value to any building. We offer installation and delivery with our team of skilled roofers. We offer the ability to accessorize your cupola with custom-built finials, crosses or weather vane.
Not only this, we offer a wide range of standard roof turrets in different sizes and styles. Our turret metal roofs are manufactured to display a beautiful wood grain effect and are more weather resistant and maintenance free.
Get the experts to install your new metal roof turret or cupola. Contact us to find out more information.
What Makes Us Different?
At Ontario Siding & Gutters, we have a team of experienced s-lock roofers in Toronto who are skilled at handling almost any type of roof project. No job is too big or small for us. Our services cover both residential and commercial clients. We not only specialize in roofing but also provide a complete solution for the siding and gutter services.
We value customer satisfaction and strive to achieve it at every cost. Our service pricing is affordable with no hidden charges. Our roofers pride themselves for doing the right job the very first time and offer workmanship warranty for everything they do.
keyboard_arrow_leftPrevious
Nextkeyboard_arrow_right